Wedding flowers play an important part in both the planning and execution of your wedding. One of the biggest decisions a bride will have to make involves the design of beautiful and elegant arrangements of flowers for the dress, corsages, boutonnieres, and any centerpieces desired for the wedding itself.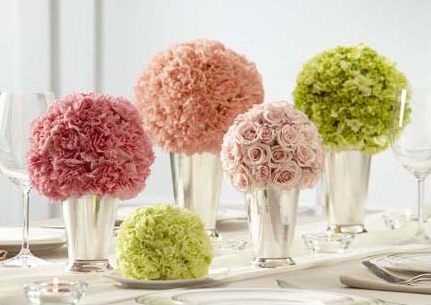 As a result of the changing times, weddings are no longer following strict conventions, with individual and unique designs becoming more and more popular. This is great because it leaves you and your family free to perfect your wedding with the aid of professional florists, ultimately resulting in fresh and unique ideas to suit your personal style.
Flowers in season in the summer come in many varieties, so you have plenty to choose from. Consider a bouquet of daisies to match the white of your wedding dress, or the peaceful beauty of dahlias or geraniums. The rose is one of the most popular flowers available, and it tends to be in season in the summer. A bouquet of roses is a perfect choice, or you could use them to decorate the church or reception.
When considering which flowers to use for your wedding, or if you're not sure which are in season, consult a florist. They will be happy to help make your special day worthy of every page of the photo album.
Need inspiration? Explore our Pinterest Wedding Flowers board, where you can create your own unique set of ideas and colors.