Although it may only feel like yesterday that Christmas decorations were packed away and New Year's resolutions were made, Valentine's Day is fast approaching! This year cupid will cast his arrow on Tuesday, February 14th, so mark the date and plan ahead. If there's a chance that you're one of those good intentioned souls that procrastinates, then simply place your Valentine's Day flower orders early and breathe easy. Consider these timely cupid approved tips on sending and selecting perfect Valentine's Day flowers.
For great flower choices, inspiration and outstanding service, speak with a real florist. Whether you order Valentine's Day flowers at Brant Florist or visit us personally at our shop on Brant Street, rest assured that when you plan ahead, your hand designed Valentine's Day flowers will be hand delivered same-day for orders in Canada and the USA and next day for international orders.
Valentine's Day is a florist's busiest day. We do our best to anticipate order volumes but occasionally last minute orders cannot be filled. A florist can run out of fresh flowers and unfortunately, time. To avoid disappointment visit, call-in or order your Valentine's flowers on-line several days in advance of February 14th . And although Valentine's Day falls on a Tuesday this year, there is no reason why you couldn't surprise your sweetheart with a delivery of beautiful, fresh flowers early. Send a stunning Valentine's Day bouquet to her work on the Friday before Valentine's Day with a note attached promising a romantic weekend and watch what happens when she arrives home!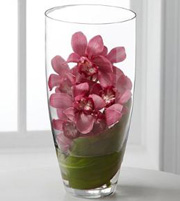 Just in case you think Valentine's Day flowers are reserved for sweethearts only, we are here to tell you that they are not. While typically men will send Valentine's flowers as a romantic gift, many women will send a cheery Valentine's bouquet or arrangement to Mom, a sibling, grandparent or good friend to show that they care! How unexpected and lovely! And, don't forget the men in your life. Real men do like flowers and a handsome potted orchid may be ideal.
If you are wondering what type of flowers to send, think outside the box. The choices are endless. Men will typically order classic long-stemmed red roses for their sweetheart but there are no rules that say you have to send red roses or even roses at all! Know the likes of your recipient and select a floral gift that fits her/his likes and personality. Mom may be over the moon with a sweet bouquet of multi-colored Valentine's tulips and your honey may love roses but vibrant orange ones may be the color that makes her heart skip a beat!
In addition to flowers, add-ons of chocolate, an adorable stuffed bear and even a fun balloon with a message can make a thoughtful bouquet of Valentine's Day flowers all the more impactful. Be sure to talk to a professional florist to assist you with your Valentine's Day floral gift needs. Whether a traditional dozen of long stemmed red roses are just right or perhaps you have a custom request in mind, a real florist will be able to personally assist with all of your requests.