Thanksgiving is almost here! As we prepare our tables for an evening of feasting and reflect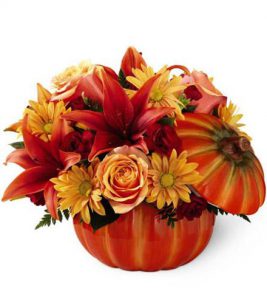 ing
with family, we'll no doubt include some beautiful decorations. Orange flowers, yellow and red too; pumpkins and corn everywhere you look. No table would be complete without on
e of our many eye-catching autumn centerpieces that captures the spirit of the fall season.
But why do we use these symbols and colours to represent Thanksgiving? Because orange and yellow dominate when the leaves fall? Because pumpkins and corn, common harvest vegetables, are orange and yellow? Yes, but there's more to it than that.
Last month we showed you what the popular colours of fall meant. This month we're going to look at what orange flowers, yellow flowers and the symbols of Thanksgiving mean for this holiday. Along the way we're also going to show you some of the many delightful autumn centerpieces Brant Florist currently offers.
Orange Flowers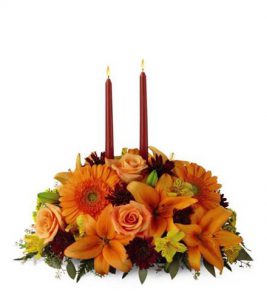 Fiery and passionate like the sun, orange flowers are symbols of optimism, energy and fun. They give us a burning drive, creativity and adventurousness, perfect for embracing the hard work of the harvest. Orange flowers also give us warmth and closeness, like the gentle flames of the hearth in a comfortable home or the tender bonds of family.
When you see your family this Thanksgiving, try to spend some time with each of them. Remember what they've contributed to your life, how they've helped you grow. Remember the people who inspire you, push you to burn away the lesser parts of yourself and be a better person. Each of us, whether we run or crawl, only reach our destination with the support of many; we all owe them our gratitude and thanks for being part of our lives, and they owe us the same. Dedicate one orange flower in your autumn centerpieces for every relative you have.
Yellow Flowers
Radiant like bulbs shining with light, yellow flowers symbolize intellect, insight and the spark-like "eureka!" moment of discovery. They represent success; the times in our lives when we're full of pride and joy as we reflect on our labours and admire their fruit, like the end of a successful harvest. Yellow flowers also represent the happy bonds of friendship, persistent and brilliant, not so easily dimmed.
It's not just family we should be thankful for, but our peers and good friends as well. They've shared our joys and sorrows, our successes and failures, our downfalls and redemptions; and we've shared just as much with them. They've brightened our lives just by being there, not out of familial connection but simply because they wanted to, and we have done the same. When we needed it most, they helped us seize opportunities and achieve greatness. You may not end up having Thanksgiving dinner with them, but it would still be a good idea to take some time to thank your friends for being part of your life and letting you be part of theirs. For every yellow flower in your autumn centerpieces, remember a friend and wish them well.
Thanksgiving Symbols
The three Thanksgiving symbols you're most likely to see in autumn centerpieces are corn, the pumpkin and the cornucopia. All three represent the aim of a harvest: to have plenty. Pumpkins, massive and bulging with more than enough to feed a family, and corn, with their numerous kernels per cob and seemingly endless yellow fields; both evoke a vast bounty. The cornucopia, also known as the Horn of Plenty, is traditionally a goat's horn said to be filled with infinite abundance—more fruit, grains and vegetables than any family or community can eat.
When you see autumn centerpieces containing a cornucopia, you should give thanks for your family's own bounty—the feast you're able to prepare and the loved ones you're able to spend time with. We've all got so many things to be thankful for.
Combine the meanings of orange flowers, yellow flowers and Thanksgiving symbols and what common theme emerges? Community. The bonds we form with others, the shared toils and spoils and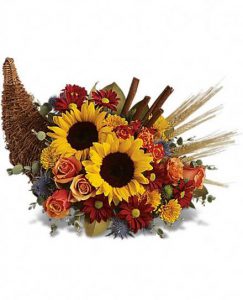 the happiness we derive from living together. As you gather around your autumn centerpieces and dig in with your loved ones, remember these values, for they hold as true for us as they did for th
e pilgrims, settlers and farmers whose harvest festivals led to our Thanksgiving.
But maybe you haven't chosen your Thanksgiving decorations or autumn centerpieces yet. If that's the case, Brant Florist has a wide selection of gorgeous centerpieces to crown your table, as well as floral experts who can help you choose the perfect flower decorations for the holiday.
What do you think about the meaning of Thanksgiving? What do these symbols mean to you?