St. Patrick's Day is right around the corner. Most people know that four leaf clovers are lucky flowers. However, this is not the only lucky flower. Though you might not stumble on a lucky flower as you go about your normal activities, you can brighten the day of your loved ones, friends or co-workers with a St. Patrick's Day bouquet on March 17. This lovely bouquet will lift the recipient's spirit and possibly bring about a stroke of good luck in the form of a new friendship, a romantic relationship, money or other discoveries.
Good Luck Flowers: Carnations
One of our most popular St. Patrick's Day bouquets contains carnations. This flower's history dates back over 2,000 years. Carnations are rich with mythology, symbolism and folklore. There is no doubt that carnations are some of the most beautiful flowers on the planet. However, few know that they are also associated with good luck and pure love. The ancient Romans and Greeks used carnations in garlands and ceremonial crowns. Today, the carnation serves as a gorgeous decoration and is widely thought of as one of the luckiest flowers around.
Morning Glories
This lovely flower is said to bring about happiness, peace and good luck. Place a morning glory beneath your pillow and you just might enjoy a refreshing night of sleep that is void of nightmares. Morning glories feature a bell-shaped bloom which is partially responsible for their reputation for brightening one's day. Native Americans once used the flower's leaves to make tea to alleviate indigestion and headaches.
Sunflower
The sun flower follows the sun and is said to provide positive energy to those in its vicinity. This lucky flower makes a living space feel considerably brighter and safer. Go ahead and eat the flower's seeds and you just might enjoy a string of good luck. Some say sleeping with sunflower seeds below one's pillow inspires honesty amongst friends, family, co-workers and others.
Peace Lily
Peace lilies are said to reduce stress, generate soothing feelings, improve sleep and generally improve the lives of those who care for them. This flower is also a sign of good will. It features uniquely spiked leaves that exudes positive energy into a living or working space.
St. Patrick's Day Good Luck Flowers From Brant Florist
Get your special someone a Shamrock in a Vase for St. Patrick's Day and it will prove to be an unforgettable holiday. This vase shows off the green mums and hydrangea in all their natural glory. It is the perfect touch of Irish for anyone who deserves a stroke of good luck.
Our Green Carnations are sure to bring good fortune to your significant other, friend, family member or other acquaintance. These stunning flowers come in a beautiful vase along with greens and a bow for the ultimate visual presentation.
Perhaps our Top of the Morning in Vase would suit that special someone in your life. Filled with white and green blooms, this flower collection is certain to put a smile on the face of whoever you select as the recipient.
Order St. Patrick's Day Flowers From Brant Florist Today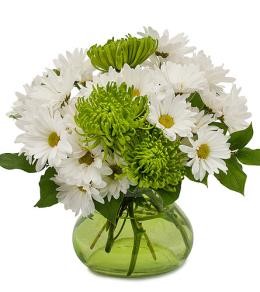 Pick out a stunning lucky flower bouquet for your loved one or friend and we will assemble it by hand with the freshest flowers. Our talented florists take the extra step of personalizing the bouquet's message to suit the recipient's unique personality. If anything good happens to the recipient, you will surely receive the credit!
Contact Brant Florist at info@brantflorist.com or 877-545-5535 to order some lucky St. Patrick's Day flowers today.