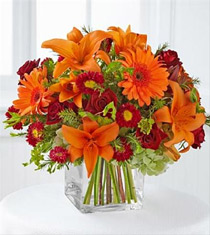 With Thanksgiving falling on Thursday, you've likely heard of more than one friend talk of their plans to be with family for the November 24th holiday. Besides filling your own belly with turkey and all of the trimmings, how will you express gratitude to those that are near and dear to you on Thanksgiving Day? Each one of us has our own special way of expressing gratitude. If you are travelling to Mom's this Thanksgiving, you know she'll express her love of family by preparing a magnificent meal seasoned with care. As a guest attending a Thanksgiving gathering, you may choose to express your appreciation with a thoughtful gift of Thanksgiving flowers!
Are Thanksgiving flowers really an appropriate gift to share with loved ones on Thanksgiving Day? Absolutely! If you've ever been on the receiving end of a gift of flowers, you know the feeling of joy that immediately overcomes you as you accept the beautiful, often fragrant gift. On the flipside, when you choose to give flowers you feel pride and excitement for a gift so thoughtfully chosen. Hands down, flowers bring smiles to our faces and make us feel happy.
For an extra special touch, pre-plan and send Thanksgiving flowers in advance of the dinner you plan to attend. On Thanksgiving Day you'll be greeted with an enormous hug from the host and the flowers will look fabulous on the dinner table for all to enjoy.
Another fun way to express your gratitude on Thanksgiving Day is to separate a Thanksgiving bouquet and offer each guest a single stem with a small note that identifies what you most appreciation about them. Can you imagine how this simple and inexpensive gesture will impact each guest? Get ready for a whole lot of hugs!
When you can't be there is person, send Thanksgiving table centerpiece or fabulous fall bouquet as a lovely way to remind those far away that you cherish and think of them always. Whether you choose to send a fall inspired bouquet arranged in a traditional cornucopia or a Thanksgiving arrangement complete with tapered candles or an arrangement that is designed with a more modern vibe, your gift of flowers is sure to make an impression.
The most popular flowers colors associated with Thanksgiving are richly hued and include shades from the spectrum of burnt orange to vibrant yellow with hits of deep crimson, rich purple or even hot pink to make the fall arrangements really pop. Mums, roses, gerbera daisies and lilies are some of the favorite fall flowers that we use to create stunning Thanksgiving arrangements. Our Freshly Fall arrangement is a popular and beautiful Thanksgiving choice.
Whether you will be hosting your own Thanksgiving dinner, plan to travel to be with family and friends or will be thinking of them from hundreds of miles away, it only takes a few thoughtful moments to order an exceptional Thanksgiving centerpiece, arrangement, potted plant or lovely Thanksgiving gourmet gift basket to share with those you love. Not only will the flowers or gift basket be appreciated, it is your thoughtful act of kindness that will be forever remembered. May your hearts be filled with warmth and love on Thanksgiving Day.