Administrative Professionals Day/Week is approaching! It's a little confusing. It's officially called Administrative Professionals Week but on the calendar it is specified to one day. I think it's because it gives the bosses a "time cushion" to get a little something for their assistants. They actually have to take care of themselves!!! They can't actually ask the assistants to take care of that….can they??? I hope not 🙂
Administrative Professional Week is now the last full week of April every year, the official day in April 22. The name has changed over the decades. It started out with National Secretaries Week in 1952 to Professional Secretaries Week in 1981 then became Administrative Professionals Week in 2000 because of the extended duties that the position now entails.
Every year Teleflora comes out with a special Administrative Professional Day Bouquet. The vase is always a keepsake container that can be reused and a suitable size to always have a little something floral on the desk. Other great ideas are floral arrangements in coffee mugs or tea cups and pairing with a box of chocolates never hurts either. 🙂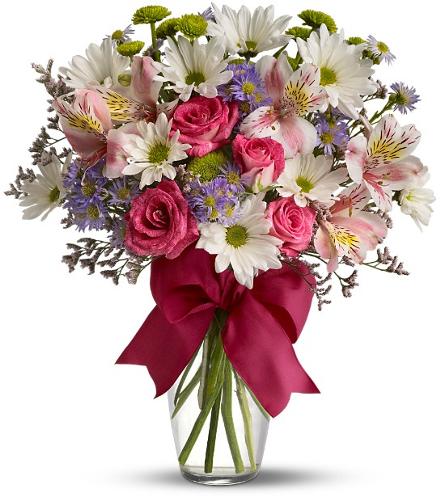 Administrative Week is timed perfectly when it comes to floral options. All the spring colours and flowers are so beautiful and would cheer up any office and staff member. So acknowledge the hard work your Administrative Professional does with a fresh floral arrangement because they do a great job every day at making you look good!