This year marks Canada's 150th birthday! If you live in Canada or perhaps have Canadian roots, it is definitely time to celebrate and there are no shortage of ways to show your Canadian pride and have fun!
Celebrate Canada With a Festive Floral Bouquet
Flowers are perfect for just about every celebration. A bouquet made with Canada's national colours of red and white is particularly appropriate for Canada Day. A beautiful choice is this Hugs and Kisses Bouquet With Red Roses. The colour scheme jives perfectly with that of the Canadian flag. This lovely bouquet is made up of red roses, red mini carnations, pink carnations and white daisy spray chrysanthemums. Beautiful greenery finishes the display and the flowers are delivered in a lavish red vase.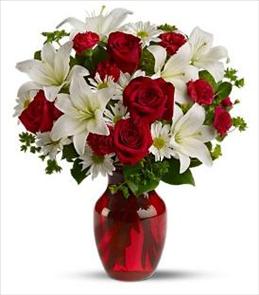 Celebrate Canada with these gorgeous Red Miniature Carnations and White Daisies. This aesthetically stunning bouquet is carefully arranged to provide the ultimate visual impact. The flowers are grouped in a "d" glass cube. The rich red mini carnations and pure white daisies are the perfect hues to celebrate Canada's birthday. Place a couple miniature Canadian flags in these flowers for a patriotic touch and proudly display them in your living room window, on your dining room table or another visible area.
Get out and celebrate Canada's 150th by attending a family-fun event. There are so many events and activities happening right across the country and we've picked out a few of our top choices:
1. Enjoy Rendez-Vous 2017 in Quebec City
Head on out to Rendez-Vous 2017 to commemorate Canada's history. This event takes place from July 18 to July 23 with more than 40 majestic Tall Ships sailing through various ports to reach Quebec City for a few days of fun-filled family activities! The historic Quebec City is the central rallying point for a 7,000 nautical mile transatlantic race that honours Canada's 150th birthday. This is an amazing opportunity to experience the gorgeous Tall Ships in person.
2. Take in the La Machine Performance in the Nation's Capital of Ottawa
Ottawa has a multitude of activities planned to celebrate. One of the more unique events is the La Machine performances, running between July 26 to July 30. Ottawa will play host to the North American debut as part of the yearlong celebration of our nation's 150th birthday. La Machine is a science fiction story with some truly spectacular mechanical creatures roaming the streets of Ottawa. There is even a gigantic dragon that breathes fire! Great for all ages!
3. Visit Canada Place in Vancouver
Vancouver will welcome over one million people for this year's Canada Place event between July 1 and July 3 to celebrate! The Canada Place event is the largest Canada Day celebration, aside from those in Ottawa. Fun events are planned for all ages including a sure-to-be spectacular fireworks show, the Canadian Forces Zone, a citizenship ceremony and plenty of yummy food trucks!
Happy 150th Birthday, Canada!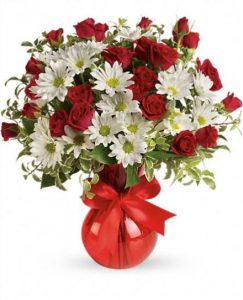 Brant Florist is proud to be Canadian and we look forward to making your Canada Day celebration even more memorable with a gorgeous bouquet. Each of our floral arrangements is hand made with the ultimate attention to detail. Our team even provides a customized note with each bouquet to make it as personalized as possible. Contact us today and place your order by phone at 877-545-5535 , by e-mail at info@brantflorist.com or order online by visiting our website at www.brantflorist.com.   We accept most credit cards, Pay Pal and Interac Online. Order your flower bouquet from us today!