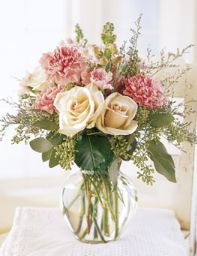 How will you say Happy Mother's Day this Sunday, May 13th? Mother's Day is fast approaching and you'd be wise to plan for it now. Perhaps you'll invite Mom over for dinner or you'll enjoy afternoon tea just with Mom. A spa date may be the perfect gift or maybe you'll organize a family barbeque and leisurely nature walk to be enjoyed by all. There are lots of ways to say, "We appreciate and love you Mom," and one of the nicest ways is with flowers.
Flowers have power to bring a smile to Mom's face and to make lasting memories. And for you, you can rest assured that whether Mom lives near or far, she will receive beautiful, heartfelt flowers on or before her special day. You'll want to contact your florist several days ahead of Sunday, May 13th to ensure that you get exactly the flowers you want for Mom. No doubt, it's a busy occasion for florists everywhere.
Why wander through a mall without an action plan when you can order flowers by phone or on-line with the help of a professional florist. All you have to do is pick-up the phone and ask your florist for some great Mother's Day flowers suggestions. Or, you can get inspiration by browsing on-line. A reputable florist's site allows you to order fresh flowers from the comfort of your own home, within minutes.
If Mom has a favorite flower then selecting a Mother's Day bouquet or arrangement is easy. Go with her favorite blooms in the colors that she loves. If you're not sure what she may like, some classic Mother's Day favorites include elegant roses, fun and fabulous daisies, lovely lilies or happy spring tulips. Go for a monochromatic bouquet, (all one color) or opt for a tasteful multi-colored arrangement. Select all one type of flower or let your florist pull together a divine mixed flower bouquet.
Flowering plants are another great option. Potted orchids are a sophisticated and brilliant choice for Mom. Showy hydrangea plants offer big impact with their enormous cloud-like blooms and can be planted outdoors after they have been enjoyed inside. A blooming azalea plant has rose-like flowers with hearty evergreen leaves and is sure to make Mom smile each time she sees it.
Your flower choices for Mom are as unique as each Mom out there. Visit your favorite florist shop or check-out a reputable florist site on-line and order Mother's Day flowers with confidence. You won't be disappointed and neither will your Mom!