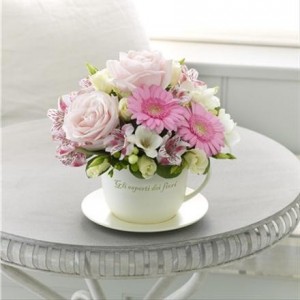 In the UK and Ireland, Mothering Sunday is always on the fourth Sunday of Lent- Sunday, March 10th in 2013. And while Mothering Sunday is sometimes referred to as Mother's Day, it is not celebrated on the same day as the North American Mother's Day occasion, which falls in May..
Historically, the UK's Mothering Sunday was the day when children who had left home to work as domestic servants or apprentices were given the day off to visit their mothers and family. While churchgoers in England would usually worship at their neighborhood parish or 'daughter' church, during Lent, parishioners would attend the 'mother' or main church of the area. It was this tradition of families reuniting at the 'mother' church that came to be known as Mothering Sunday. As working children walked along laneways to reach the main church, they would pick flowers to give to their mums once reunited.
Today, flowers are still a beloved way to express sentiments of admiration and appreciation for mums on Mothering Sunday. Professional florists are busy fulfilling orders for beautiful Mother's Day flower baskets, arrangements and hand-tied flowers. Along with flowers, some families select chocolates or even wine to be delivered with the flower order to treat Mum to an "extra special" gift. Mother's Day flower options range from lovely spring mixed flower bouquets to roses, daisies and tulips. Remember to choose flower colors based on Mum's preferences.
No matter that Mum lives thousands of miles away, look to a professional local florist affiliated with a network of worldwide florists making ordering flowers for UK or ordering flowers for Ireland Mothering Sunday flowers delivery easy and worry-free!