With its striking, large deep green leaves and the contrasting white blooms, this plant will accent any home or office beautifully. The flowers are sometimes called flags and usually appear once or twice a year.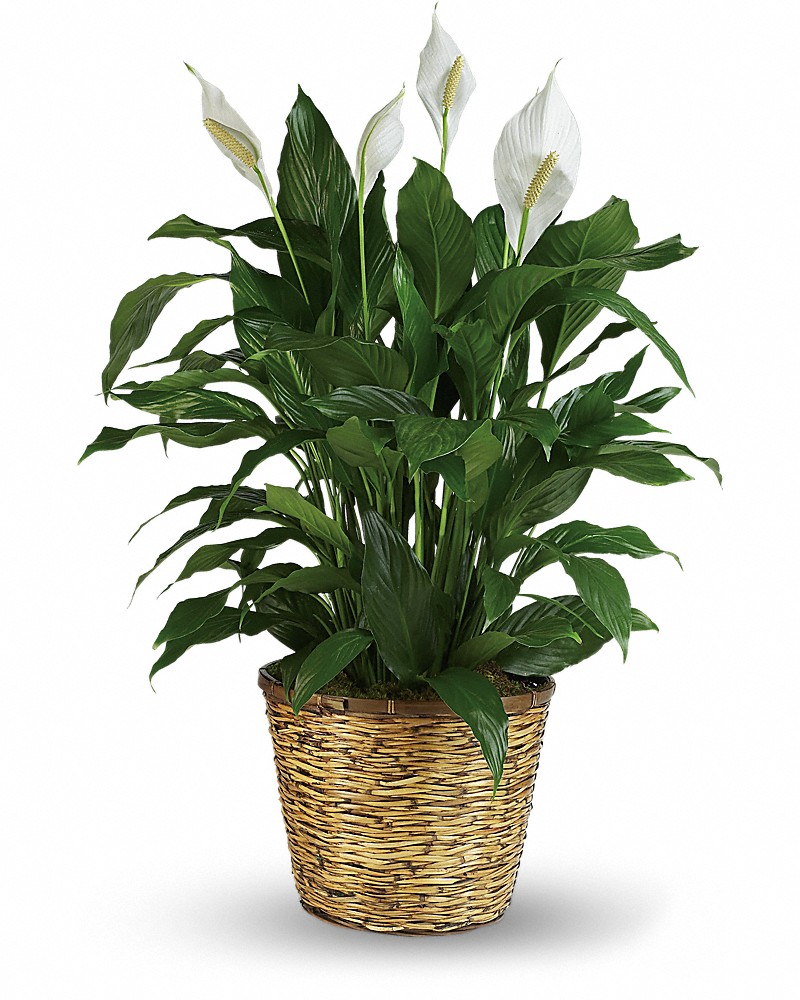 One bonus of owning a Peace Lily is that it cleans the air. All plants take in carbon dioxide and give up oxygen. Exactly the opposite of humans and animals which helps keep the atmosphere balanced.
And it is very easy to take care of, for all you non green thumbs out there. It does not like direct sunlight, though filtered light through a sheer curtain is fine. A west or east window is usually also acceptable. But this plant also tolerates low light with a fair degree of success. More light encourages blooming. Fertilize sparingly.
We recommend that when you receive your Peace Lily……….let it go somewhat dry between watering. When the leaves droop a bit, give it a drink as soon as possible and it will come back. (warning; do not let plant really wilt or it will not come back with the next watering.) Like most house plants, this one does not like over watering or under watering.
Try to remember how many days after watering the plant looked a bit droopy, then water one day before that. It should be approximately 1 week. This will keep your plant happy & healthy with a perfect watering schedule. Water more often in hot and dry locations.
Much of the water you add to a plant simply evaporates. The plant only use part of that water. Plant leaves (and humans) are made up of mostly water.
The Peace Lily, even though called a lily, is not in the lily family and therefore is only mildly toxic to humans and dogs- which is good news for you pet owners!
The Peace Lily is perfect for all occasions from birthdays to funerals, sympathies, offices or new home owners. It is a low maintenance plant with high class elegance.