Halloween can be a perfect opportunity to heat up the romance with your partner. All the costumes, treats, mystery and autumn darkness allow for a spooktacular night of romance!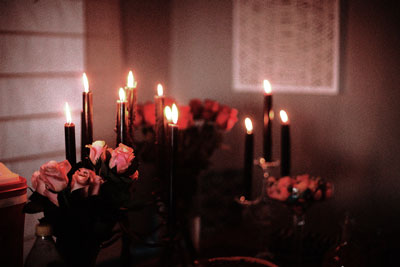 Here are a few ideas for a night of Halloween passion to remember!
– Go to the same costume party separately and don't let each other know what you are going to dress up as. See if you can find each other at the party and solve the mystery..
– Decorate your bedroom with candles, Jack-o'-lanterns, cobweb, red rose petals or other Halloween flowers and spend the night giving each other sensual massages and enjoying fine wine..
– Go pumpkin picking together and at night carve out some good times, make it a competition or a joint effort.. either way enjoy each other's company.
– Pick out those "special" costumes that will let you both relive your secret fantasies, and why not be someone else for a night?..
– Go for a scary walk through a graveyard or a dark forest (if you dare)…bring a flashlight!
– Rent a limo and take a ride through a few graveyards (for even more fun add bottle(s) of wine and chocolates)
– Find an old bed and breakfast in a rural area and spend a night together…
– Watch a scary movie, cozy up, feed each other chocolate, enjoy some wine and see where it goes..
– Go for a hay ride or a visit a haunted house.. find a dark place and sneak in a few kisses..
How would you make your Halloween more romantic? Let us know..