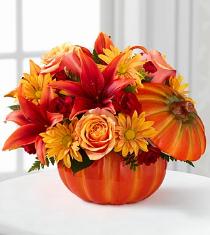 In anticipation of Halloween night, the kids are sure to be searching for the most ghoulishly large Halloween bag to hold their Halloween treats. You may be on your own mission to find a spooktacular Halloween gift for someone special. Sure, candy is a sweet treat, (I'm talking sugar overload!), but a gift of Halloween flowers is something to shout BOO about!
We always like to treat our daughter's teacher to an unexpected Halloween flower gift. A single stem is all it takes to put the teacher in a bootiful mood for the rest of the day! The most perfect gerbera daisy or stunning rose and my daughter's teacher is sure to be happier than a jack-o-lantern on Halloween night. This year, we can't forget the ever faithful school crossing guard also. She'll be sure to smile broadly when we present her with a sweet Halloween flower!
My girlfriend's birthday is on Halloween…ohh the parties she' had! This year I'm thinking of getting her a birthday gift of yes, Halloween flowers! She adores fresh flowers and I know she'll love a spirited autumn bouquet of lilies, carnations and mums maybe in pops of vibrant orange and fuchsia to match her fun-loving personality.
When I was a youngster, my grandparents always made an extraordinary effort to present me with the most thoughtful treat bag filled to the brim with goodies each Halloween. This year, I think we'll send them a bountiful pumpkin bouquet filled with lovely autumn flowers. I can just imagine the look on my grandmother's face when she opens the door to the delivery of Halloween flowers!
Halloween is on Wednesday, October 31st. Who will you send Halloween flowers to?