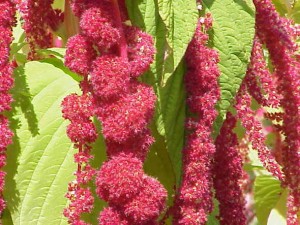 We've found a flower to feature in August that could very well have a multiple personality disorder, but sounds like a Bon Jovi song title; Love-Lies-Bleeding.
This beautiful plant is also known as Amaranthus, Amaranth, Tampala, Tassel Flower, Flaming Fountain, Fountain Plant, Joseph's Coat, Love-Lies-Bleeding, Molten Flower, Prince's Flower and Summer Poinsettia and they have the same amount of uses, if not more.
These rope-like, brightly colored red, or purple flowers hang from tall, upright branching stems and have breathtaking, deep red or green tassels. The cascading flowers were one of the staple foods of the Incas and is now known as the kiwicha in the Andes. To this day, people around the world toast the Amaranth grains much like popcorn and mix it with honey or molasses to make a treat called alegra, which means joy in Mexican Spanish. North Americans are rediscovering the nutritional property of the grains, which is considered a "super-food" and a "complete protein" when boiled and can be used as a substitute for either rice, or oatmeal with a "cream of wheat" consistency. In Africa, China, Greece, India, Nepal, Pakistan and Tibet the edible greens (which are likened to taste like spinach), herbs and grains are consumed daily.
Love Lies Bleeding was used to provide comfort to those suffering physical and psychological pain, by helping them to move beyond their pain and to seek out a greater spiritual awareness. In doing so, it is believed that the person would experience a shift within their soul from suffering to compassion for others, as documented in the story of St. Francis of Assisi.
The botanical name Amaranthus is Greek and means "one that does not wither" or "unfading flower". They last longer than most flowers once cut and can be easily dried to extend your enjoyment time. As cut flower arrangements, they will last 7 to 10 days in a vase and at least 10 days if hung upside-down for drying. They make beautiful border flowers in the garden.
A beautiful plant with many unusual names and extraordinary uses; Love Lies Bleeding will add color, conversation and comfort to any garden this summer.
Until next time,
Ken Bolt
PS. Have you seen our best sellers?