Fall Flowers 
Fall is in the air and that means that you'll be seeing a lot more fall flowers everywhere such as Chrysanthemums. They offer rich colours and there are so many varieties. Its a great flower to consider to not only have in your garden but also to add a fall theme to the inside of your home. 
There Are Many Types of Chrysanthemums 
There are over 140 different cultivars of the Chrysanthemum and they come in different sizes and colours. Its truly a wonderful fall flower, since it comes in rich fall colours such as, yellows, reds, bronze and some are even bi-coloured. Perfect for any garden or placed in a vase in your home.
Brant Florist 
Here at Brant Florist we sometimes feature mums in our bouquets. Below you can see the arrangement "Yellow Mums and Orange Roses in Cube Vase." It's available to order and you'll be able to choose other options as well by searching mums or go to the Fall Flower section of our website. You're bound to find some mums and they can also look great in your garden as well.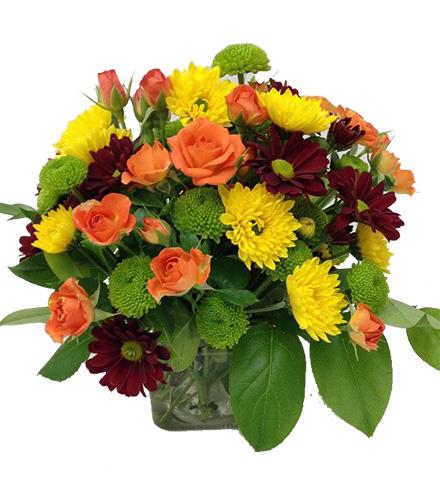 Gardening 
Chrysanthemums look stunning in your fall garden, but when should they be planted? When we plant the flower in the fall it can survive the winter, however it's chances of survival less. So it's recommended to plant them in the Spring. This way you'll have a better chance to provide the proper care (pinching and mulching). Once planted they will usually last about 3 consecutive years.
Order Flowers!
You can order your flowers directly from our website and have them delivered or you can come in see us. Our address is 461 Brant Street, we are located in the lovely downtown core. Come and see us, we hope to see you soon!