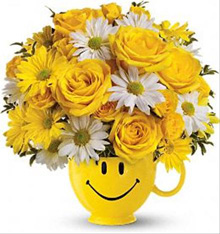 Feeling cold and weary with this bone chilling winter weather? Perhaps your home is also looking a little glum since the holiday decorations and tree have been put to bed until next Christmas. No need to let the winter blues get you down though. We suggest a super simple pick-me-up…just add fresh flowers into your home!
Behavioral research has proven that the presence of flowers in the home increases happiness and enjoyment. Just think back to the last time someone gave you flowers or better yet, the last time you treated yourself to flowers. We bet a happy feeling warmed your heart at the sight of those lovely, cheery blooms. With the hum-drum of winter, now is a perfect time to lift spirits inside your home!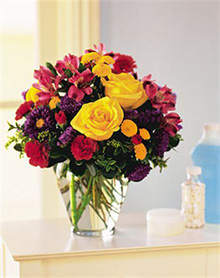 Simply add a burst of beautiful fresh flowers into any space of your home and watch the room come alive. Wake-up each morning to pretty blooms on your nightstand in the bedroom. Greet guests to a showy bouquet of gorgeous lilies on the entryway console. Add cheer to the family room with some free-spirited tulips. In a snap, fresh cut flowers can instantly add style, color and a feeling of happiness and well- being to any room of the house.
Also, if you feel like a dear friend could use a January pick-me-up too, consider sending him or her our best selling 'Be Happy Smile Mug.' It's easy to help friends chase away the wintertime blahs by surprising them with an unexpected gift of gorgeous flowers!