With Canada Day around the corner, we Canadians are getting ready for the first long weekend of the summer! The July long weekend means so many wonderful things: warm and sunny weather, blossomed summer flowers, and celebrations to show our pride in Canada and in being Canadian.
We have a few ideas on how to show our Canadian pride this long weekend as we celebrate Canada Day:
1. Backyard party
Canada Day falls right at the start of summer, which (generally) means great weather! This is the perfect opportunity to invite friends over for a backyard BBQ. Outdoor dinners are tons of fun for the whole family, and it doesn't break the bank. Ask your guests to bring something to contribute and make it a potluck! There's nothing better than being with friends and family on the long weekend.
2. Canada Day arts and crafts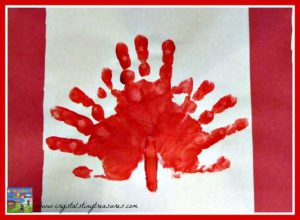 There are lots of easy and fun crafts you can make with the kids to celebrate Canada Day. Check out our Canada Day Pinterest board for ideas on what to do this long weekend for crafts, food and more. Here's one great idea: paint two red vertical lines on a piece of white paper or bristol board, separating it into thirds, and paint the outer blocks red. Instead of a maple leaf, have the kids make a red handprint in the centre white block of the bristol board to create personalized Canadian flags!
3. Decorate for Canada Day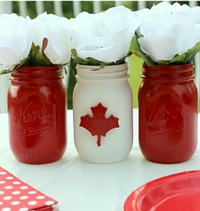 If you're having people over or not for Canada Day, show your patriotism by decorating your house and backyard with red and white! Use red and white paint and glitter to decorate mason jars. You can use these as holders for your cutlery or as vases for patriotic red and white flowers to make Canada Day themed centrepieces! Decorate your backyard or your house with string lights and hanging pots of summer flowers, red table cloths and napkins.
4. Explore
You don't have to go far to discover the beauty of this country. In almost every town or city, there are hiking paths, bike trails and parks to walk around and enjoy the Canadian summer weather and nature. Do a quick search to find where you can explore in your town this long weekend. Many communities will also organize events to celebrate Canada Day.
5. Fireworks
Plenty of cities and towns offer free fireworks for Canada Day. Find out if your town is doing a fireworks display near you. You are also likely to see and hear your neighbours setting off red and white fireworks this long weekend… grab a blanket to cozy up outside and enjoy the show!
Whatever you do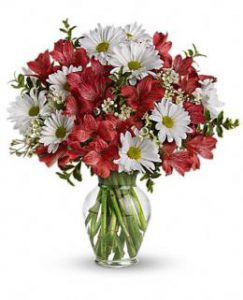 to celebrate Canada Day this long weekend, we hope you enjoy it with lots of Canadian pride, laughter and flowers!
Visit our special Canada Day page for red and white flower arrangements for your backyard party or to just decorate your house this long weekend.
You can also give us a call at 877-545-5535 or email us to place an order for easy delivery!