Valentine's Day Flowers Adwords: Feasting on the Bones of Local Florists
Vultures. It's the only way I can think to describe Google's Adwords ads this past Valentine's Day holiday.
'Don't be evil' flew out the window and Google opened it even wider for the birds of prey to strip consumers and local flower shops of their hard-earned dollars.
First, we had ProFlowers telling shoppers seeking local florists BY NAME in Google searches that the stores were sold out of flowers. It's a completely despicable ad tactic that diverted consumers by lying about local flower shop inventories. Despite having plenty of beautiful blooms for Valentine's Day, the drop-shipper tried to suck in late buyers by falsifying the flower availability at these shops. Shame on Liberty Media. Shame on ProFlowers. And shame on the Google staffers who approved those ads.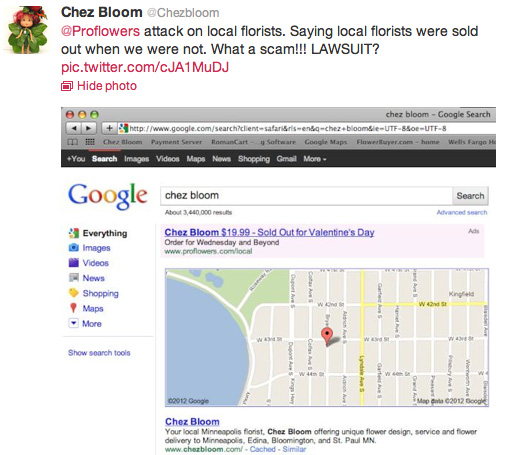 Lots of local florists took note of the ad scams and thankfully, a few others blogged about it.
Next, we had buyers looking for local neighborhood flower shops using Google's Maps. 'Search nearby' produced Map balloons that included not only our own company data, but contained ads for 'national florists'.
I spent just shy of 23 minutes with a single customer trying to convince her she wasn't looking at our website. She'd mapped her friend's location and then found our Anaheim flower shop nearby. She had unsuspectingly clicked the 'ad' link in the bubble, not realizing she'd been taken to a 'national' (relay company) advertiser site rather than out locally-focused selection of products.
The way I finally convinced her she was looking at an order gatherer site was to tell her our Saturday deliveries cost the same as weekdays. ( The 'national' site charged a premium price for weekend delivery) … so she finally conceded she'd been duped.
Loads of local florists are going through this time-consuming exercise daily.

Google has long been a company I've respected, but this holiday they put ad dollars way, way ahead of truthful advertising and consumer/user interest.
Google:  Don't tell your users drop-shippers are 'located nearby' and don't let advertisers misrepresent the inventories of real local florists.
Both are evil and are far more vulture-like than the Google brand I've respected for many years. Lose the trust of local businesses… and buyers…and you lose a whole lot.
Re-posted with permission from Avante Gardens Florist.