Halloween is a fall festivity that allows us to dream and fantasize. Getting dressed in costumes, whether they are ghosts and goblins or princesses and fairies, we are able to lose ourselves in the fun of being a different character. It also gives us freedom to go crazy in how we decorate our homes, offices and schools.
Getting together with family, friends and neighbours is a big part of this celebration. While the kids are trick-or-treating, or after they have brought home their stash, it is time for the adults to have some fun.
Fall flowers can play a big part of your Halloween celebrations this year. The beauty of flower arrangements that have the Halloween theme can be used in a variety of ways:
A friendly message: We are always looking for ways to tell loved family and friends that they are in our thoughts.  A Halloween bouquet is the perfect way to do that this month.

Party invitation: Be creative with a small Halloween gift to invite your guests to your celebration.

Halloween decor: Brant Florist has a wide variety of Halloween arrangements and centerpieces created by hand that will match any party theme, or decorative theme.
Take a look at some featured Halloween arrangements below: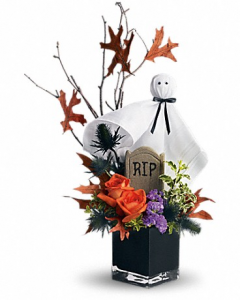 Speaking of evoking spirits, here comes a ghost! It rises from its tomb to deliver your message from beyond the grave.
Add some fun and humour to your decor this Halloween, with this arrangement of fall flowers and a touch of something scary!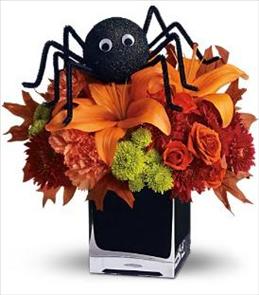 A gorgeous collection of red, yellow and orange flowers rising from a jack-o-lantern and infested with bats. It doesn't get more "Halloween" than this!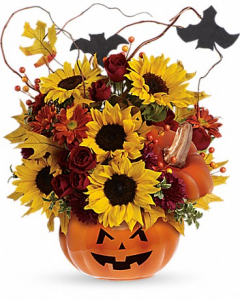 Flowers are a versatile way to add fun to your Halloween experience. They can be a way to show someone special that you care on Halloween. Or they can make your home as terrifying as it is beautiful. No matter what you decide to do with your fall flowers, Brant Florist creates handmade flower arrangements carefully designed for each customer. They've got a wide selection of fall flowers and many years of expert floral gift advice. Visit the Brant Florist website or call us at 877-545-5535.