No matter the weather, the environment, nor the company, the presence of flowers always seem to brighten up the mood. Flowers can make us feel joy, excitement, love, pride, comfort and a lot more. Do you ever wonder how?
Flowers stimulate our senses. Their beautiful colours and sensational scents play with our emotions, and they have the ability to make any scene much more vibrant and lively.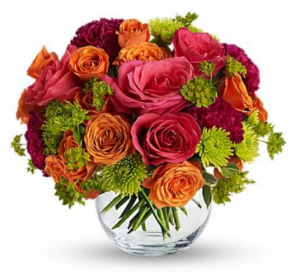 Who can look at bouquets like these, overflowing with bright splashes of red flowers, orange flowers, and yellow flowers and not marvel at their beauty? Even as a simple image they explode right off the page like fireworks, filling the white space with colour, life and energy.
What you don't get from the pages are the unforgettable scents, with their dazzling hues and refreshing fragrances, flowers captivate our minds and engage our senses.
Try adding some flowers to an office, a school desk, a living room, anywhere. Watch how their colours stand out against the usual browns, greys, whites and blacks of our furniture. Close your eyes and take deep breaths of their aroma. You can't help but smile! This is a great way to turn the drab into the delightful.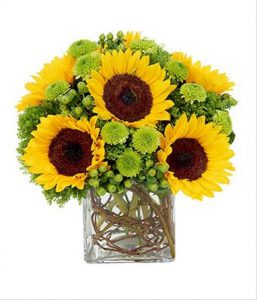 It's also a great way to reconnect with nature. In a world of bricks and mortar, flowers allow us to bring nature into our lives, wherever we go. They remind us of the beauty all around us. Take sunflowers, for example. Not only do those yellow flowers shine as brilliantly as the sun…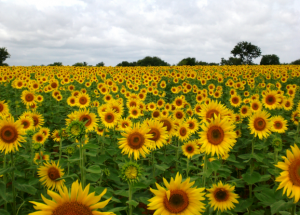 …but they are a source of joy. This positive energy feeds back to our surroundings and connects us to nature.
In addition to connecting with our own emotions, flowers are a great way for us to connect with others. For every sentiment and a message, there's a flower that matches its meaning. Thanks, congratulations, apologies, romantic gesture and so on.
At Brant Florist we can provide the perfect custom arrangements for any occasion. No matter the colour or flower type you ask for, we've got it. Whatever meaning you want your flowers to convey, we know the best flowers for any occasion. All our flower arrangements are hand made by our floral artists to give your gift that unique personal touch. Let us help you brighten someone's day. Browse our online catalogue or contact us at 905-634-2658.