Easter is less than a month away. It is time to put up the holiday decorations along with some colorful flowers. If you aren't exactly sure how to incorporate flowers on your Easter table, you aren't alone. Most people love flowers but are a bit puzzled as to how they can be displayed in a truly artful manner. Let's take a look at some creative ways to adorn your dinner or kitchen table with Easter flowers.
A festive floral centerpiece from Brant Florist
Finish off the table with an elegant floral centerpiece from Brant Florist. One of our colorful floral centerpieces will certainly liven up your Easter table. We have all sorts of beautiful Easter floral arrangements that will look absolutely fantastic on every holiday table.
Place an individual tulip at each place setting
Wouldn't it be nice for each of your family members or guests to find a lovely tulip at their respective positions at the Easter dining table? Pick out some beautiful tulips for the Easter holiday, place them at each place setting and everyone will have their own tulip to bring back home. It is a small but meaningful gesture, especially for adult Easter dinner guests who otherwise would not have received anything special on the holiday.
Set each place with beautiful floral print napkins
Though a floral print napkin isn't exactly the same as a gorgeous bouquet of flowers, it is certainly easy on the eyes and a festive way to add colour to your table. Place your favorite floral print napkins at each place for some lovely eye candy. These napkins will also serve as a conversation starter to boot.
Create name cards in the shape of flowers
If you and your family are looking for a creative way to celebrate Easter, give this idea a shot. Trace your favorite flowers onto colorful paper and cut them out to create festive name cards. It is the next best thing to an actual flower. Furthermore, this project lets you express your creativity and allows you to have some fun on the holiday.
White tulips in milk glasses
Place a couple white tulips in milk glasses and space them out across the table. It is a small visual touch that will bring the table to life for your holiday celebration. White is the perfect Easter color and tulips are the ideal springtime flower. You will be hard-pressed to find a better decoration for your Easter table.
Fill a vase with eggs and top it with an assortment of Spring flowers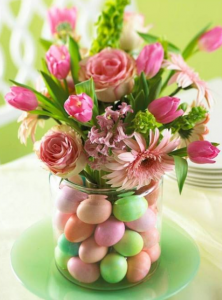 An Easter bouquet of flowers for your dining room table will serve as a stunning centerpiece that is absolutely perfect for the holiday. If you are feeling extra creative or looking for a child-friendly activity, have your kids decorate the Easter eggs before placing them in the basket.
Brant Florist is Here to put a Smile on Your Face!
Each Brant Florist floral arrangement is handmade to ensure that each customer enjoys the perfect flowers. Our mission is to provide each customer with a highly unique and visually stunning combination of flowers that results in a lasting smile. We take the time to personalize each bouquet for the intended recipient(s) by including a customized note. Our attention to detail is second to none. Contact us today at 877-545-5535 or info@brantflorist.com to order your Easter flowers in time for the holiday celebration.