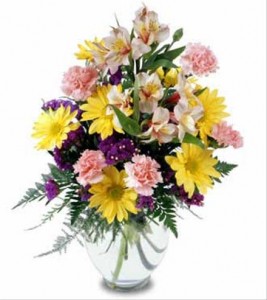 Everyone loves getting flowers for all types of events and occasions and Easter is no exception. Easter flower arrangements can be some of the most beautiful because of all of the bright brilliant spring colored flowers. Taking the time to care for your Easter flowers will ensure that they last longer than a mere weekend. Most people love beautiful flowers, but they are somewhat unsure how they will be able to extend the life of their lovely Easter flower arrangements. The following is information that will help with the preservation of beautiful Easter flower bouquets.
Preparation of Flowers upon Receipt
Upon obtaining flowers for Easter either directly from a florist or as a gift from a loved one, family or friend, it is very important to properly prepare flowers to assist in their longevity. Usually fresh cut Easter flower arrangements can last for a few days if they are properly maintained. One of the main tips for making sure that your flowers for Easter remain fresh and lively is to keep them adequately watered. For those that receive Easter bouquets that come with oasis foam, it is important to keep this form wet to ensure that the flowers are receiving adequate moisture. It is also possible to send Easter flowers in a vase. Those individuals that receive flowers in this manner should make sure that the stems are fully immersed in water upon receipt. It is even advised to trim the stems before immersing them in water so that the flowers are better able to obtain the moisture that is needed.
Sustaining Easter Flower Arrangements with Home Remedies
In addition to the traditional methods of sustaining the life of Easter flower arrangements by making sure the stems are adequately moist, there are other ways that people can keep their flowers for Easter fresher longer. Many of these methods are actually homemade tips that can be easily achieved with little to no effort. Placing crushed aspirin in the vase prior to adding the flowers will significantly help to extend the life of the flowers. Adding about ¼ teaspoon of bleach to about a liter of water will also keep flowers longer and will also prevent the growth of bacteria in the water. The addition of a copper penny to the vase water will produce acid which will prevent the growth of bacteria and increase the lifespan of Easter flower arrangements. Also, as wacky as it may seem, it is possible to send Easter flowers already in a vase and ensure their longevity by adding a clear lemon-lime soda to the vase water. Apparently, the sugar in the soda will make the flowers last longer. Overall, there a variety of things that people can do to extend the life of their Easter bouquets.
Drying Easter Flowers
For those individuals that really want to hold on to their flowers for Easter, there is always the option of drying the flowers. Drying flowers is not a complicated process. There are a number of people that do it for a variety of reasons. The drying of Easter flower arrangements involves taking the flowers and placing them in a location that will enable the moisture to be easily removed.  The drying process simply involves placing the flowers in a warm dry place for a couple of weeks until all the moisture in the flowers has been removed. Once the flowers for Easter are totally dried, they can be used in a variety of ways such as for arts and crafts and even for fragrant homemade potpourri.
Thus, if someone should send Easter flowers get the most use of them by properly caring for them via a number of preservation techniques, and then continue to enjoy them as dried flowers later on.