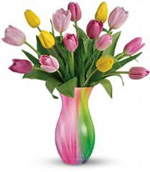 Easter falls early this spring so it's fitting that the unusually warm weather has beckoned the trees and flowers to bloom early too. Easter Sunday is on Sunday, April 8th. The occasion reminds us of rebirth and renewal and certainly brings us back to nature. Everywhere you look spring is in the air. At Brant Florist, we're ready to help you bring in the season with beautiful, fresh Easter flowers!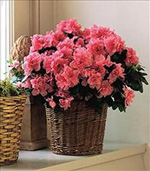 Each family has their own Easter traditions. Some will celebrate with a formal dinner while others will make it a more casual affair by inviting friends over for a barbecue. It's often a time when little girls get to select new Easter dresses and all of the children look forward to a fun-filled scavenger hunt. Many will have and share flowers with those they love.
In preparation for Easter in our home, we'll paint eggs and bring out Easter decorations including bunnies and elaborately decorated wooden eggs that we have been collecting for years. We'll do some Easter baking, (or at least pick-up treats from the bakery), and of course we'll fill our home with fresh flowers!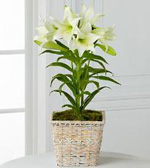 At the shop, we'll be busy fulfilling orders for traditional white Easter lily plants as well as colorful Easter Flower Arrangements and Bouquets and Easter fruit baskets too. When you share a gift of flowers by Brant Florist, you can rest assured that our flowers are always hand-arranged and hand delivered with care. For certain, Easter flowers keep you close even when distance keeps you apart.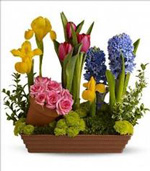 There are lots of admired spring flowers that we deliver in the days leading up to Easter. Tulip bouquets are a favorite and they are available in a multitude of cheerful spring hues. Or, for an extra special gift send an arrangement of monochromatic tulips, (one color), in a keepsake vase. Our Nature Wonders Bouquet is a stunning salute to spring with lilies, iris and daisies hand-arranged in a garden basket. Another breathtaking choice is our indoor Azalea Blooming Plant that can be planted in the garden for the summer! Gourmet fruit baskets are another excellent Easter gift choice.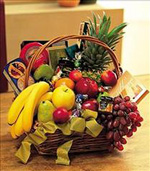 Our Spring Favorites arrangement is a spectacular collection of spray roses, tulips, irises, hyacinth, asters and chrysanthemums. Together, these delightful blooms are arranged in a terra-cotta pot. If you do celebrate with a formal dinner, it won't take long for guests to spot this beautiful Easter centerpiece and comment on how welcoming it makes your home feel.
We would be honored to assist you with your Easter floral gift and gift basket needs. And, as we take this time to take in the beauty of spring we wish you, our valued clients, family and friends blessings for Easter and the rest of the year.