Winter is finally winding down, and the air is filled with warmth and rain, bringing spring into bloom nice and early this year. Coincidentally, Easter is also early this year, falling on March 27th.
What better way to welcome the transition from winter to spring than with a beautiful floral arrangement?
Excellent for a centrepiece for an Easter brunch, or to present to your Easter host at the door, our Easter Flower Arrangements are a wonderful way to bring the new season of life into the home.
At Brant Florist, we have a wide selection of spring and Easter arrangements – from more simple and classic to bright and colourful.
Our White Lily Arrangement consists of a timeless flower; one that compliments springtime perfectly. While the flowers open, a sweet fragrance will add to the beauty of this arrangement.
Our Mixed Tulips Arrangement offer a traditional sign of Spring with it's brigh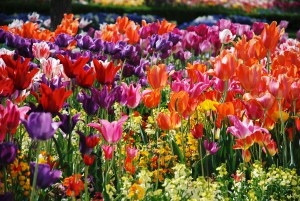 t and mixed spring colours and blooming pedals. They come in a clear glass cube vase, for a clean and fresh look. Nothing says Easter like an arrangement of these picturesque flowers in the home.
Other Spring favourites include arrangements with a collection of tulips, daisies, lilies, carnations and more colourful springtime wonders. The Abundance of Beauty arrangement is presented in an adorable wicker basket, perfect for Easter.
Don't forget about our Easter Gift and Fruit Baskets, which are perfect gifts for any host, hostess and/or loved one this season.
As always, it's our pleasure to provide you with your Easter gift needs. As we embrace the arrival of spring, we'd like to take the time to wish you a wonderful Easter season.