Are you on the prowl for a heartwarming gift that expresses your admiration and/or gratitude? Perhaps you simply want to let someone know you are thinking about them with something more substantial than a text message, e-mail or phone call. A flower arrangement is the perfect solution. Everyone loves receiving flowers, especially when they are fresh, colorful and aromatic. A floral arrangement received in the midst of a brutally cold and dreary winter really is a powerful pick-me-up.
Spread the Holiday Cheer
Christmas and the New Year's celebrations are not far away. Most of us consider this to be the best time of the year as we are provided with the opportunity to spend time with our family and friends. Show those who mean something to you exactly how you feel about them with a lovely Christmas flower arrangement from Brant Florist.
'Tis the season to spread holiday cheer! Your gift of fresh flowers just might inspire the recipient to think of you in a different light or maybe even return the favor down the road. The point is that you build up some seriously positive karma by giving during the holiday season as well as the remainder of the year.
Who to Buy For
It is a given that you will buy presents for your family members. Yet there are plenty of other people in your life who are also deserving of something special for the holiday season. Consider giving the gift of flowers to those who have helped you out in any manner throughout the year.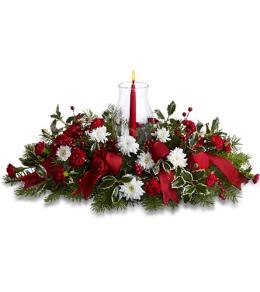 Perhaps your child's teachers went above and beyond the call of duty to help him excel in the classroom. Or, maybe one of your relatives who lives far away would enjoy a floral arrangement this Christmas or New Year's Day.
Even those who help make your daily life better in small ways are deserving of such a gift. We're talking about mailmen, paper boys, garbage collectors, crossing guards, police men and so on.
Our Flowers
If you aren't sure which flowers to pick out, don't fret. We have a diverse array of stunning flowers that appeal to a wide variety of individuals. Consider our lovely Holiday Planter With Poinsettia. Rife with the colors of Christmas, this piece will invoke plenty of holiday spirit. Our Red and White Centerpiece with Twin Candles is our best selling Christmas centerpiece for good reason.With it's red and white flowers and pinecone accents, this stunning arrangement defines Christmas and winter. Buy one for your dinner table to add a festive feel to your holiday gatherings.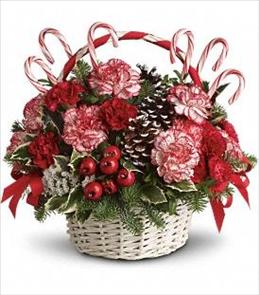 Order our Candy Cane Christmas Flowers for someone on your gift list and your recipient will be wowed by its beautiful colours and candy cane accents. Or send our Winter Elegance Bouquet to someone special, this beautiful arrangement with clusters of red berries is sure to put a smile on the recipients face.
Brant Florist's Hand Made Floral Arrangements
Our team goes the extra mile when it comes to assembling gorgeous flower arrangements. We hand make each arrangement with fresh and beautiful flowers. Our aim is to build only the most stunning floral arrangements possible, but we don't stop there. Your gift is hand delivered by our experienced drivers delivering in all kinds of weather.  We want to ensure the recipient receives their beautiful arrangement.  If the recipient isn't home, your gift may be left with a neighbour.  Remember the cold weather is rarely a friend to flowers left on a doorstep.
And Ordering is Easy!
Order online or from your mobile device to send your Christmas arrangements this year. Simply choose your festive design, give us the address you want the bouquet sent to and the date you want it delivered and we will take care of the rest! We'll also send you an email copy of your order, and a confirmation email once we've delivered your arrangement (and some Christmas cheer!).