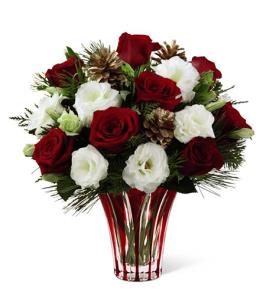 When decorating for Christmas, people are often inspired by Christmas flowers. Since many design professionals recommend that you choose a colour scheme before starting your holiday decorating, you can look to Christmas flowers, an important part seasonal décor, when selecting a festive colour palette. Start with your flowers and then carry the theme to other design elements.
Red and green – These are the standard colours of Christmas flowers and plants and, therefore, of Christmas decorating. The two colours contrast beautifully, as the continuing popularity of holly and poinsettias demonstrates. Green is also the colour of the fir and cedar boughs that are used in many homes. To add red to your evergreen sprigs, consider ribbon, bows, candles and even cranberries!
Red and white – Every child loves a candy cane, that enduring red and white symbol of Christmas. With all of the choices in Christmas flowers, it is easy to create floral arrangements using these two colours. Poinsettias are available in red and white. Or, go beyond traditional Christmas flowers: think carnations and chrysanthemums in striking shades of red and white, or white lilies or freesia accented by ribbon or candles. And paperwhites make a lovely and fragrant addition to holiday décor.
Monochromatic – Pick one colour and use various shades for decorating. Christmas flowers and plants come in so many colours that they can be easily incorporated into a monochromatic colour scheme. Try a palette of greens, from sage to spruce, or a dramatic winter white motif.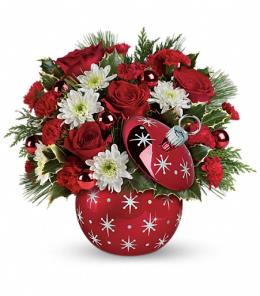 Accent your Christmas flowers in a way that suits your décor. Add metallic elements for a modern look – gold offers a stunning complement to red or winter white, and silver offers a beautiful accompaniment to green. Use natural materials for traditional decorating – arrange pine cones and evergreen sprigs on a tray or plate, or create nosegays of twigs, leaves or flowers. With your colour palette, your imagination and a few Christmas flowers, the possibilities for festive decorations are limitless!
With Brant Florist's online delivery of a bouquet or flower basket gift, decorating for Christmas day has never been easier!