Still, to this day, the word poinsettia has to be one of the top mispronounced words of the English language. It is one of the oldest Christmas traditions – that everyone should have a poinsettia for the Christmas season. The perfect hostess gift, for a neighbour, great for the in-laws or to fill up that annoying space in your living room you just can't quite seem to find anything to suit it! Whatever the reasoning or intention is for your poinsettia, the one tradition that won't fail to impress. The crimson red poinsettia are the most popular, hands down! The beautiful red leaves- ya, I said leaves. The flower of the poinsettia is actually the little yellow buds in the centre of the leaves. Along with the red poinsettia there are other colours as well- pinks, whites, jingle bells ( a red poinsettia with white flecks) and our favourite, the one we like to call Ketchup Chips, Why? Because that's exactly what it looks like. It's a white poinsettia that looks like it has been dusted with red powder. Simply Delicious!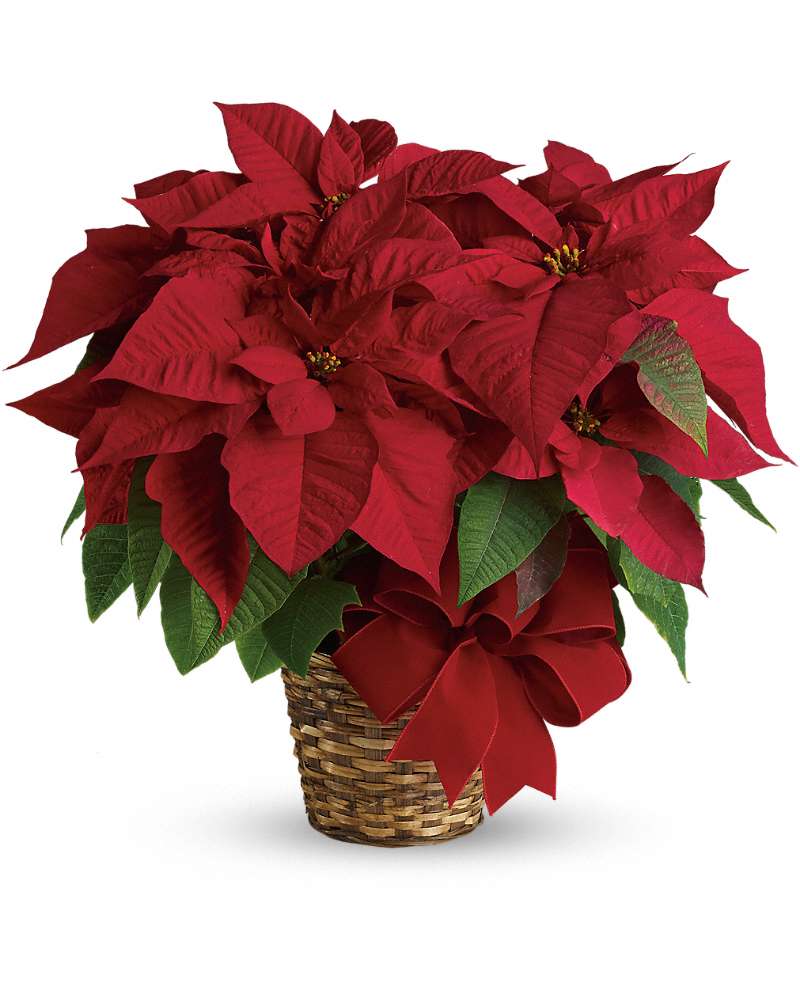 The poinsettia is also an excellent business gift sent by many companies every year. We deliver their Seasons Greetings message to places all over North America and even some to Europe.
Deliver poinsettia gifts early in December so the recipients can enjoy leading up to the big day complementing other home or office decorations and of course the traditional Christmas tree.
We see hundreds of poinsettias come through the shop every year and we still ooh & ahh at the magnificent colours.
The trick to keeping your poinsettia happy and healthy throughout the season- or till Easter, like my mother, because "Why throw out a perfectly healthy plant?"- is to ignore it. That's right you overwatering divas! Let your poinsettia get dry. Pick up your poinsettia, if it's light, give it a drink. If not leave it for a couple days and try it again. For watering count 1,2,3,4,5- approximately half a cup of water every third or fourth day, depending on it's location and the temperature of your house. That's right people- ignorance is bliss- if you're a poinsettia, that is! And it's ok if a couple leaves fall off. Just clean them up and enjoy Mother Natures festive wonder.
I hope this information I've provided you helps you out this holiday season. Whether you are gift giving, showing thanks or simply need to get on your in-laws good side. Pick up a poinsettia today and spread some holiday cheer!
All the best for a happy, healthy holiday season from Brant Florist!